Die aktuellsten Publikationen einsehen und verfolgen.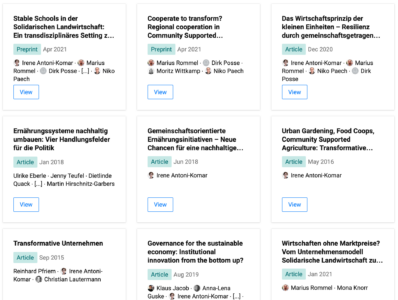 Die nascent-Projektseite auf der Online-Plattform ResearchGate bietet einen Überblick über die wissenschaftlichen Arbeiten, die im Rahmen des ersten und des aktuellen nascent-Forschungsprojekts entstanden sind. In den meisten Fällen besteht die Möglichkeit zum direkten Download der Publikationen.
Neben den bereits veröffentlichten Arbeiten besteht auch Zugriff auf Publikationsvorhaben, die sich noch im Preprint-Status befinden. Dazu gehören derzeit der englischsprachige Artikel "Cooperate to transform? Regional cooperation in Community Supported Agriculture as a driver of resilient local food systems" und der deutschsprachige Beitrag "Stable Schools in der Solidarischen Landwirtschaft: Ein transdisziplinäres Setting zur Förderung organisationaler Stabilität".
Wir freuen uns weiterhin auf einen regen fachlichen Austausch mit interessierten Praktiker*innen und Forschenden.
Hier zu den Arbeiten des aktuellen nascent-Projekts.