View and follow the latest publications.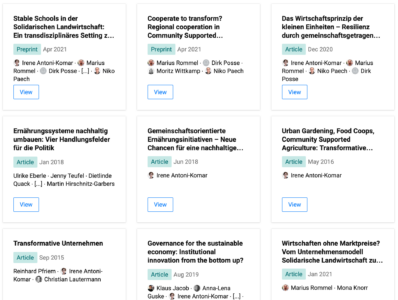 The nascent project page on the online platform ResearchGate provides an overview of the scientific papers that have been published as part of the first and the current nascent research project. In most cases, there is the possibility to download the publications directly.
In addition to the papers that have already been published, there is also access to publication projects that are still in preprint status. These currently include the English article "Cooperate to transform? Regional cooperation in Community Supported Agriculture as a driver of resilient local food systems" and the german text on "Stable Schools" in the context of CSA as a transdisciplinary setting to promote organizational stability.
We continue to look forward to a fruitful exchange with interested practitioners and researchers.
Here to the works of the current nascent project on ResearchGate.